The £189m Library of Birmingham, described as the biggest public library in Europe, opened its doors today.
It was opened by Malala Yousafzai, the women's right campaigner who was treated for gunshot wounds in a Birmingham hospital.
Malala, who made a remarkable recovery after she was shot by the Taliban for campaigning for girls' education in Pakistan, now lives in Birmingham.
She said she was proud to be opening a building designed by a woman.
"This event proves this city loves me and I love it too," she said in a speech to mark the opening.
Malala added: "Books are precious. Some take you into the core of your heart and others take you into the universe."
The library houses 200 public access computers and a collection of one million books.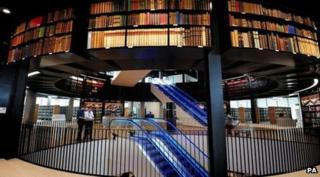 PA
In July, on her 16th birthday, Malala gave a speech at the United Nations in New York City, calling for free education for all children.
Europe's biggest library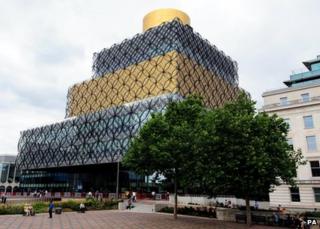 PA
Its most valuable books are incredibly rare: copies of Shakespeare's First Folio and John James Audubon's Birds of America - worth between £6m and £7m each;
It has space for 3,000 people;
It has nine floors - three of which are out of bounds to the public;
It has a brown roof garden with wild flower meadow.