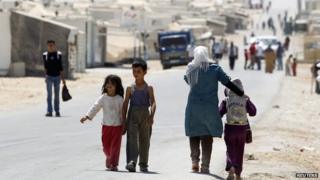 The United Nations says a third of the Syrian population has now been displaced by the country's civil war.
It's estimated that five million of those are still inside Syria, while two million have fled to neighbouring countries.
Relief agencies have set up camps in Turkey, Iraq, Lebanon and Jordan.
The charity Save The Children say half of the refugees living in these camps are children.
The UN High Commissioner for Refugees, Antonio Guterres has described the situation in Syria as 'the biggest refugee crisis of all time'.