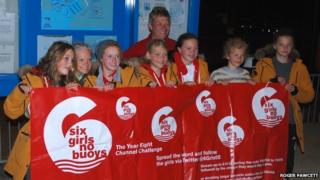 A team of girls, aged 13 and 14, are celebrating after swimming across the English Channel.
The group, who call themselves Six Girls No Buoys, decided to take up the challenge as a way to raise money for school equipment and for charity.
Ella, Maddy, Lily, Felicity, Millie and Minnie (pictured above in that order with Lily's mum and dad) took to the seas very early on Sunday 1 September.
They completed the 21-mile swim in 13 hours 6 minutes and 9 seconds.
They did it in a relay with each girl swimming for an hour at a time.
All of the girls, except Lily swam for two one-hour sessions, but Lily ended up swimming three sessions because she started the race.
Lily said: "It's so amazing that we did it, it actually feels like a dream."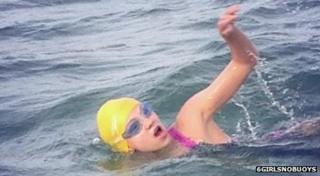 But it wasn't easy, she added: "At the end the wind was really strong causing big swells in the water and the boat was really rocking".
The girls have been training hard since March and Millie said all that hard work together has brought them really close.
She also said:"My brother was desperate to join the team but we said no boys!"
The girls hope they will inspire other young people to get out and do something different for a good cause.