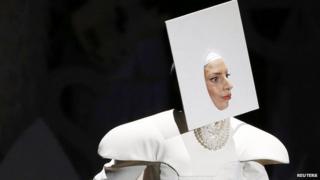 Lady Gaga has returned to the UK for her first concert in the country since she broke her hip a year ago.
The American star opened the iTunes festival in London, playing a set of entirely new material.
"To say that I've missed you, it's a bit of an understatement," she told her fans on stage at London's Roundhouse.
The show was streamed live around the world and One Direction's Niall Horan and singer Adele were in the audience.
New songs
In the 60-minute show Lady Gaga - whose real name is Stefani Germanotta - played only new songs which feature on her new album ArtPop.
It was the first time songs like Manicure, I Wanna Be With You and Swine have been played in concert.
Before the show she tweeted her fans with instructions to dress up in "art clothes", "trash bags" or "bedazzled pig snouts".