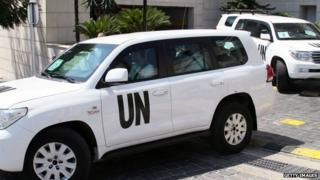 America says it has compelling evidence the Syrian government carried out the chemical weapons attacks that killed hundreds of people last week.
That's despite UN weapons inspectors saying it could be two weeks before the results of their tests on the site are released.
The UN inspectors have now arrived in the neighbouring country Lebanon after four days of inspections.
And their departure may pave the way for US military strikes in Syria.
Any attack that might have placed UN inspectors in danger would have been highly unlikely.
Speaking on Friday, President Obama said the alleged attack in Damascus' suburbs on 21 August was "a challenge to the world" that threatened America's "national security interests".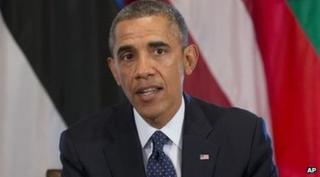 "We cannot accept a world where women and children and innocent civilians are gassed on a terrible scale.
But the US leader stressed that Washington was "looking at the possibility of a limited, narrow act", and there would not be any soldiers sent in to fight on the ground or a "long-term campaign".
Last week we asked BBC Security Correspondent Frank Gardner to answers Newsround viewers' questions about Syria - what's going on and what may happen in the future.