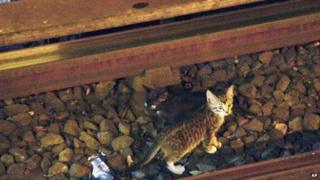 Lines in Brooklyn on the New York City subway system had to be shut for over an hour on Thursday night as rescuers tried to find two escaped kittens.
Subway workers started the search after a woman reported that her two kittens had escaped onto the tracks.
They were joined by police in the rescue efforts and the kittens' owner even tried using food to try to coax them out.
Eventually the animals were found and removed safely from the tracks.