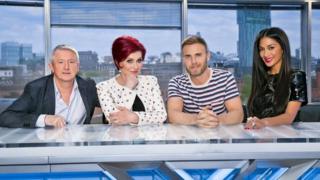 Sneak peek at the X-Factor studios!
It's back! And so is Sharon... yes, The X-Factor will return to our screens this weekend and Newsround's Martin got to go behind the scenes.
It's 10 years since the first show, and to celebrate the producers asked Sharon Osbourne to join the panel of judges once again.
It has been six years since Sharon sat up there and gave the contestants feedback.
The new series will also have some twists in the format, which include double auditions.
Watch the video to find out what Louis Walsh, Sharon Osbourne, Gary Barlow and Nicole Scherzinger revealed to Newsround's Martin...
...and check out those pouty selfies too!