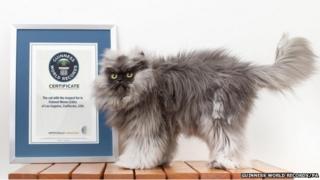 Meet Colonel Meow - he is officially recognised as the furriest cat on the planet, after Guinness Book of Records granted him the record for having the longest fur.
The two-year-old moggy is a Himalayan-Persian cross and at its longest his fur reaches 22.97cm (that's nearly the length of a school ruler).
Colonel Meow lives in California with his owners, Anne Marie Avey and Eric Rosario, and they say he will be celebrating his achievement today.
Anne Marie said: "We already knew that he was the best cat in the world, but to be recognised in the Guinness World Records book takes it to the next level."
However, there is a downside to owning the furriest cat: "Literally everything in the house has hair on it, including us! I feel like I'm always vacuuming!" says Anne-Marie.