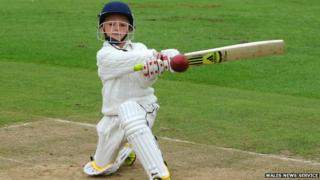 A six-year-old boy has become the star of his village cricket team after outscoring his own dad.
Harrison Parsons, from Abercarn in Wales, plays in the men's league despite being not much bigger than an adult sized cricket pad.
He was first asked to play by his dad just for fun, but now he's an important part of the team.
In fact in a recent match Harrison scored 24 runs but his 27-year-old father only managed 15.
Harrison first started playing cricket when he was just two and his hero is England star Joe Root.
'Remarkable talent'
Dad Jeremy said: "I've not been able to live it down since. I've been getting a lot of stick but I'm really proud of him.
"He's a remarkable talent, I'd like to say he takes after his dad but he's a lot better than I was at his age."
His mum Beki said: "When I had cartoons on for him on the telly, he would get the remote and change it to the sports channels to see the cricket.
"Even in rugby lessons in school, he throws the ball as if to bowl it."
Harrison is the latest in a long family line of cricketers to play for the village team.
His dad is the opening batsman, his grandfather Kevin plays for the second team, while his uncle Ieuan is the first team captain.