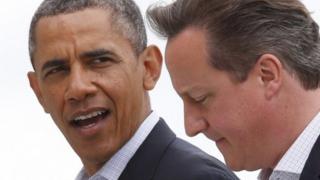 The arguments for and against getting involved in Syria
British Prime Minister David Cameron has held an emergency meeting to discuss the UK's response to the deepening crisis in Syria.
A National Security Council (NSC) meeting took place at the PM's offices in Downing Street today.
The prime minister said the world could "not stand idly by" in the face of the "massive use" of banned weapons.
But any military action would have to be legal, he added. Meanwhile, America has said its forces are "ready to go".
At today's meeting, the National Security Council "agreed the use of chemical weapons by Assad was unacceptable and the world cannot stand by", Mr Cameron said.
The Syrian government says it was not responsible for last week's chemical attack - and that America and others were using it as an excuse to attack.