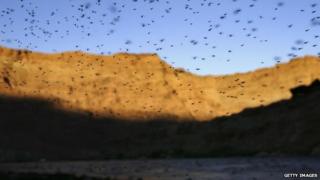 Two teaspoonfuls of insecticide that were poured down a kitchen sink have been blamed for wiping out all insect life along a ten-mile stretch of river in Wiltshire.
The incident caused devastation on the river Kennet, one of the country's top fishing locations.
An environment minister is now pushing for new laws limiting the sale of a insecticide called Chlorpyrifos.
Chlorpyrifos is used on lawns and golf courses to get rid of insects.
In America there are limits on the use of Chlorpyrifos and in Singapore it is banned altogether.
People are being advised to avoid skin contact with the water in the river.