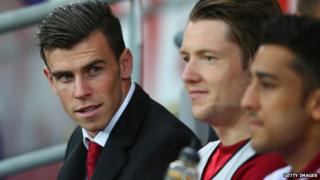 A 'mystery' second club has joined Real Madrid in the race to sign Tottenham winger Gareth Bale.
Real have offered a world record £86m for the 24-year-old but Spurs have not accepted the bid yet.
It is not yet known who the second club is, but Manchester United boss David Moyes refused to deny it was them after their 0-0 draw with Chelsea.
Moyes said: "It's been tough in this window but we're always looking at the best players."
However, Real Madrid are still favourites to sign the Welshman as it's thought Bale has set his heart on joining the club.
The fee for Bale would beat the £80m world record Cristiano Ronaldo set when he moved from Manchester United to Real Madrid in 2009, but it falls short of the £103 million Spurs were originally thought to have wanted for the superstar striker.
Bale, who joined Spurs in a £10m deal from Southampton in 2007, was named player of the year by both the Professional Footballers' Association and Football Writers last season after scoring 26 goals for the North London side.