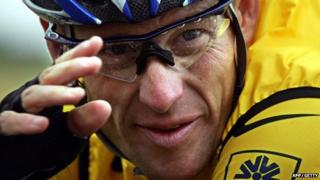 Disgraced cyclist Lance Armstrong has come to an agreement with the Sunday Times newspaper after it sued him for £1million, the paper has announced.
The cycling star finally admitted he took drugs to help him win the Tour de France seven times in January.
After years saying he hadn't taken drugs, the 41-year-old came clean in a TV interview with US host Oprah Winfrey in January.
Before revealing he'd lied, Armstrong had already been paid £300,000 to settle a case he'd brought against the paper in 2004, for questioning him.
The Sunday Times said it had reached a 'mutually acceptable final resolution'.
Last year, the United States Anti-Doping Agency called Armstrong a "serial" cheat who had led "the most sophisticated, professionalised and successful doping programme that sport has ever seen".
He was stripped of his seven Tour de France titles.
Profile: Who is Lance Armstrong?