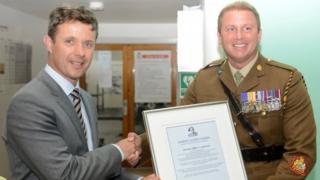 A Scots soldier who risked his life trying to save an injured Danish comrade in Afghanistan has been honoured by Denmark for his courage.
Explosives expert Andy Peat helped Rene Brink Jakobsen after his patrol was hit by an improvised explosive device.
The officer, from Edinburgh, stopped a second explosive and lay across the path of another.
He is the first ever soldier outside Denmark to receive the Anders Lassen Award.
He was presented with the honour by Crown Prince Frederik at a ceremony at the Royal Danish Military College in Copenhagen.
'Extraordinary courage'
Each year the foundation chooses one person for its honour and cash award of £3,000.
This year they selected Peat for his "extraordinary courage and determined actions".
The Scottish soldier said that: "all the guys would have done the same thing"