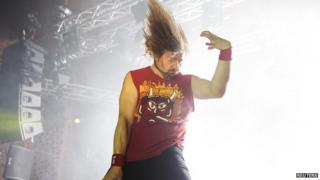 The Air Guitar World Championships 2013 have just taken place in Finland.
'Mean Melin' from the United States dazzled the crowd to win the air guitar champion crown.
He said he wants his skill to be recognised as a performing art.
Your unusual talents
We asked you if you have any talents that are a little out of the ordinary.
Maybe you can touch your nose with your tongue, play the spoons, or even clap louder than Joe Tidy!
Your comments:
My weird talent is that I can open my eyes underwater!
Ihsan, Birmingham, England
I can shape my tongue into a three leaved clover.
Gracie, East Sussex, England
I can make owl whistle sound with hands, and my family find it very annoying!
Maisy, Southampton, England
I think my talent is colleting the most stuffed toys. I know it's very weird but I have more than 100!
Jasmine, London, England
I can put both my feet behind my head.
Nicole, West Lothian, Scotland
I can make my eye lid turn inside out - I scare people with it on Halloween.
Katie, Southampton, England
I can do loads of unusual things like naming every king and queen from England and Scotland.
Evie, Reading, England
My unusual talent is eating tomato ketchup sandwiches. The way that you make them is get some tomato ketchup then put some on a slice of bread.
Holly, Burnley, Lancashire
I can impersonate all my friends so that they always think I'm someone else!
Julia, London, England
I can balance spoon on my nose for a long time.
Jessica, Wales
I can write with my foot, it's very strange!
Callum, Cumbria, England
I can make my ears wiggle
Tess, Denmark
I can play piano with my toes.
Fay, Belfast, Northern Ireland
I can play the spoons like Joe!
Fern, Surrey, England