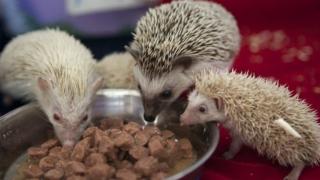 Hedgehogs named after Prince George
Three rare albino hedgehogs in Russia have been named after Prince George of Cambridge.
The triplets have been given the names George, Alexander and Louis after being born on the same day as the future king.
The exhibition centre where they live in Moscow, has even made them their own royal residence to live in.
The miniature castle is made of wood and has dark velvet curtains and a posh bed.