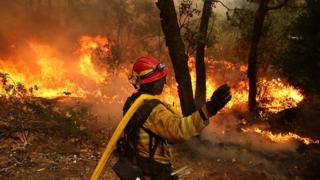 Wildfire near famous Yosemite National Park
Firefighters in the US are trying to control raging wildfires near the famous Yosemite National Park in California.
Tourists visiting the area in its busiest season have been told to leave and homes nearby have been evacuated.
The fire's been burning for a week and has tripled in size in the last twenty-four hours.
A state of emergency has been declared around the area.
In the state of Wyoming, wildfires have been burning near Yellowstone National Park.