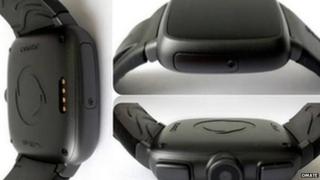 A smartwatch with a built-in five megapixel camera is set to go into production.
The Omate Truesmart raised £63,760 of pledges on fundraising site Kickstarter, meaning the South Korean firm will start developing the product.
It hasn't announced when the product's out, but will reveal more at a consumer tech show in Berlin in a few weeks.
Another smartwatch, Pebble, also managed to raise more than £6million through the funding site last year.
What features will it have?
Google's Android 4.2.2 operating system will power it, allowing it to run apps including fitness activity trackers

The touchscreen will be 1.5in (3.9cm)

It will be water-resistant, allowing it to be worn while swimming, but not if diving

It will offer GPS location support

It can be operated via gesture controls

Its 4GB of internal storage can be boosted by up to an additional 32GB using a microSD card