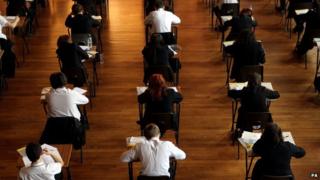 The number of pupils getting top GCSE grades has fallen for the second year in a row.
More than 600,000 teenagers in England, Wales and Northern Ireland got their GCSE results on Thursday.
There was a big fall in pupils getting top grades in the sciences, after new syllabuses and exams were introduced.
Last year saw the first fall in the proportion of GCSEs awarded top grades since the exams were introduced 25 years ago.
Overall, the proportion of grades between A* and C is 68.1%, down from 69.4% in 2012.
And the proportion getting an A* or an A fell from 22.4% to 21.3%.
The overall pass rate also fell very slightly.