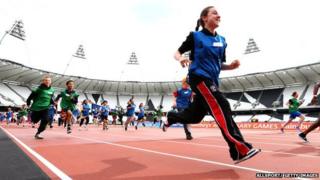 Half of all 7-year-olds in the UK don't get the recommended one hour a day exercise, a new survey suggests.
A study of nearly 7,000 children, carried out by University College London, also found that girls are far less active than boys.
They say the government must make sport more attractive to girls, by promoting activities like dancing and ball games.
For the study kids wore an accelerometer on an elastic belt around their waist to measure exercise levels.