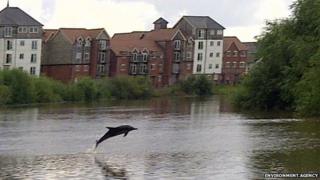 A dolphin has been snapped frolicking in the River Dee, in the town of Saltney in North Wales.
It was first seen by the public on Monday in the nearby town of Connah's Quay, but then swam upstream. A nature charity is keeping tabs on the animal.
It became stranded briefly on Tuesday afternoon after turning to make its way to Flint and back towards the sea.
It is rare for dolphins to be seen in the River Dee but a pair of porpoises were reported nearby eight years ago.
Volunteer animal medics said the mammal was heading downstream towards the sea, but still has some way to go.
They had to roll it back into the water after it became stranded for a short time.
'No need to intervene'
"Sometimes it goes back upstream for a bit and then turns round, but it seems to be okay," said local vet Phillipa Mahon, who has been following the dolphin.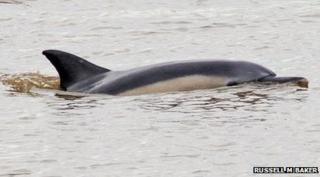 Stephen Marsh, from charity British Divers Marine Life Rescue, said: "The reports from the public said it was swimming quite a lot, clicking quite a lot, so it's probably feeding.
"Unless it gets into difficulty we don't really need to intervene.
"We will monitor it and hope it goes back out to sea."