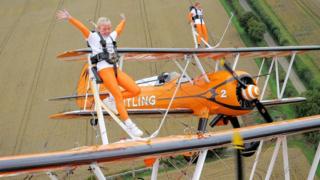 Youngest wing walkers break record
Two 9-year-old girls broke a world record on Wednesday to become the world's youngest formation wing walkers.
Cousins Rose and Flame took to the skies over Gloucestershire on two biplanes from the 1940s.
They planned their daredevil walk to raise awareness of muscular dystrophe.
They flew in formation where the two aircraft are just metres apart, and the pilot of one of the planes was their granddad, Vic.