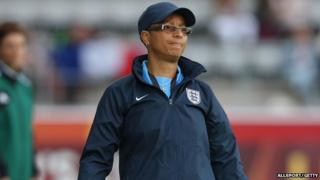 Hope Powell has been sacked as manager of the England women's football team.
It follows England's poor performance in Euro 2013 last month when the team was eliminated in the group stages.
Powell had been in charge for 15 years but the FA said it was now time to make a change.
Alex Horne, FA general secretary, said: "Hope deserves a lot of credit for her commitment to developing the national teams over such a long period.
"The high point was undoubtedly reaching the UEFA European Championship final four years ago.
"However, after the disappointment of the recent tournament in Sweden, the Club England Board believe the time is right to make a change and for a fresh outlook."
The FA are now looking for a new head coach and a technical lead for women's football.