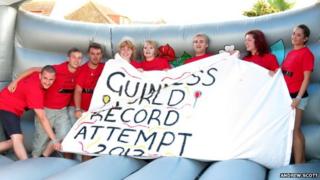 After jumping on a bouncy castle for 36 hours, these bouncers hope they've broken a world record.
The group from Weston-super-Mare took it in turns to bounce for 20 minutes at a time and at least one person had to be bouncing at all times.
It will take four weeks for Guinness World Records to confirm if their attempt is the new world record.
The current one is 27 hours and was set last year in the US state of Iowa.
The group carried out the record attempt to raise money for charity.