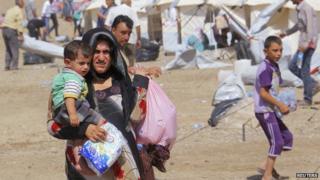 The United Nations says thousands of Syrian refugees are pouring into neighbouring Iraqi Kurdistan.
Up to 10,000 crossed the border on yesterday, adding to the 7,000 that arrived on Thursday.
Aid agencies are apparently struggling to cope with the sheer number of arrivals.
There has been an increase in fighting in Syria and the refugees have been using a new bridge to escape.
Two million people are believed to have fled Syria in total since the uprising began two years ago.