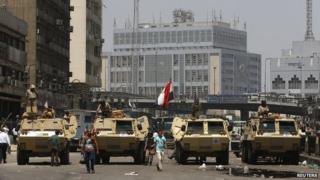 The UK and United Nations have called again for an end to the violence in Egypt.
And European Union ambassadors are holding emergency talks in Brussels to discuss how Europe should respond to the crisis.
Egypt declared a state of emergency after violent unrest across the country.
Last week, security forces cleared a mosque of thousands of protesters, who want former President Mohammed Morsi returned to power, after a tense stand-off.
Hundreds of people have died since clashes began last Wednesday.
A night-time curfew is in place in the capital, Cairo, and many other provinces.