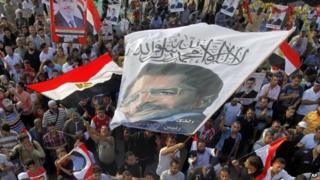 A state of emergency has been declared in Egypt after scores of people were killed when security forces stormed protest camps in the capital Cairo.
The camps had been occupied by supporters of former president Mohammed Morsi, who was removed from power in early July.
Security forces say 95 people have been killed. But the Muslim Brotherhood, which backed the protests, says hundreds have died.
The state of emergency is expected to last for a month.
Protesters had been camped out in Cairo's Nahda Square and the Rabaa al-Adawiya site for the past six weeks.
The demonstrators want Mr Morsi, from the Muslim Brotherhood, to be put back in power.
Mr Morsi was removed from office by the army on 3 July. after mass street protests against him.
During his first year in office he fell out with lots of people in Egyptian society, and Egyptians didn't think he was doing enough to tackle poverty in the country.
At least 72 protesters were killed in battles with security forces last month.