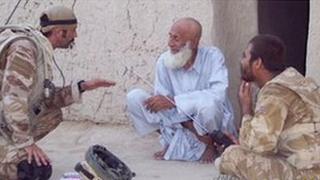 A group of former Army officers will visit Downing Street today to ask the government to allow Afghan interpreters, who helped British forces during the war in Afghanistan, to be allowed to live in the UK.
They're going to deliver a document called a petition which has over 27,500 signatures from people who agree with this.
The UK has offered some interpreters, who helped British troops to communicate with local Afghans, the right to live in the country.
But campaigners say more needs to be done to ensure others can do the same and escape attacks by the Taliban.
The translators, who are mainly from northern areas of Afghanistan, have helped UK soldiers since the war against the Taleban began, in 2001.
Risking lives
They put their lives at risk on the front-line and some have received serious threats.
Major James Driscoll, one of the former officers behind the resettlement campaign, said interpreters had taken "great risks to both to themselves and their families" to help British troops.
By December 2014 the British army plans to withdraw all troops from the country.