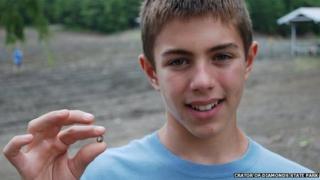 A 12-year-old picked up a five-carat diamond at an American park.
Michael Dettlaff found the diamond thought to be worth around £9,700, while visiting the Crater of Diamonds State Park in Arkansas.
It's the only diamond producing site in the world, according to its website, which allows people to look for diamonds.
Anyone who finds a diamond then gets to keep it.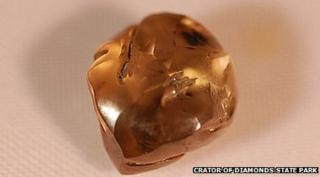 Michael spotted the gem just after entering the park. "We were probably there about 10 minutes and I was looking around on the ground and found it on top," he told America's ABC news. "It was very glassy. Very smooth."
"When I brought this rock out of the bag the guy who's there, he just went bug-eyed and he said, 'Hang on a second. I need to take this to the back room,'" "So then people start coming from everywhere and they're like, 'Oh yeah. It's a big diamond.'"
Twelve large diamonds have been found at the site this year.
Michael now hopes to get his find valued. "If it can get cut and it's valuable, I think I'd probably want to have it cut and sell it," he said.