Missy the King penguin has waddled forward to claim the title of the world's oldest captive penguin.
The Bourton-on-the-Water resident is thought to be 36 years old - two years older than the current Guinness World Record holder, a Gentoo penguin in Denmark.
King penguins are usually only expected to live up to 26 years in captivity.
The King penguin arrived as an adult at the Birdland park back in 1982.
Despite losing the sight in one eye, Missy is still very much a bird to be reckoned with.
Missy spends much of her time alongside Seth, her devoted penguin partner of 18 years.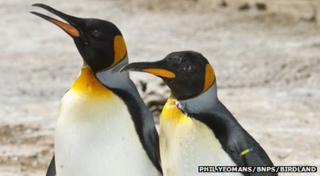 "She has very much become one of the most loved birds here at the park and she's definitely top of the pecking order among the penguins", say keepers.