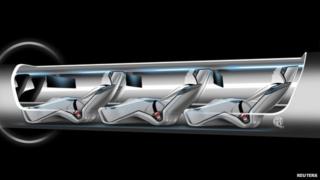 It may look like something out of a science fiction movie, but could this be the way we'll travel in future?
Take a look at this sketch of billionaire Elon Musk's "Hyperloop" transport idea.
The Hyperloop, which is described as a cross between a Concorde, rail gun and air-hockey table, seems to involve sending passengers through a tube in capsules!
It's designed to be solar powered and to move passengers, and even automobiles, at a speedy 800 miles per hour, according to the 57-page design plan.
The creator wants to link US cities Los Angeles and San Francisco. He claims he could make the 380-mile journey "about half an hour".