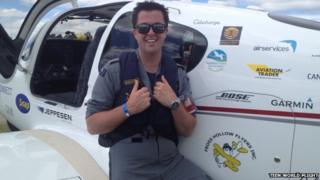 A 19-year-old trying to become the youngest pilot to fly solo round the world in a single engine aircraft is making his only stop in England.
Australian Ryan Campbell is visiting a whopping 14 countries on five continents in his record bid, which began on 30 June.
He is due to touch down at Lydd airport in Kent for a two-day stopover after flying from Wick.
The teenager is scheduled to return home on 7 September, after covering a massive 24,000 nautical miles!
The trip has 28 stopovers in countries including the USA, Canada, Iceland, France, Greece, Egypt, Oman, Sri Lanka and Indonesia.
Ryan reached the half-way point in Reykjavik, Iceland on Saturday.
He said he was receiving a fantastic reception in each country and from thousands of people following him on Twitter and Facebook.
"It's great to hear words of encouragement from a whole host of people," he said.
"When you are faced with the unknown it's those words of wisdom that spur you on that little bit more."
He will fly the Cirrus SR22 aircraft to France on Thursday, with the trip ending where it began, in Wollongong, New South Wales.
Mr Campbell obtained his private pilot's licence just after his 17th birthday and qualified for his commercial pilot's licence in 2012, three months after turning 18.
The current holder of the world record is 21-year-old American Jack Weigand.