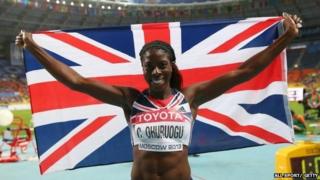 Great Britain's Christine Ohuruogu has won gold in the women's 400m in a dramatic photo finish at the World Championships in Moscow.
The 2008 Olympic champion was trailing with just 20 metres to go but caught up with Botswana's Amantle Montsho and dipped ahead of her over the line.
The pair finished in the same time of 49.41 seconds - a new British record!
Ohuruogu's won by a tiny four-thousandths of a second, as she repeated her World Championship win of 2007.