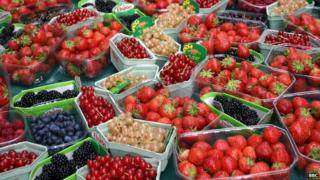 Late autumn is set to bring a 'bumper crop' of fruits and berries for wildlife in the UK countryside, experts say.
Fruiting is expected to be delayed after a late spring but the recent warm weather should see flourishing berry crops, according to the Woodland Trust.
The predictions are based on data recorded by trust volunteers for its Nature's Calendar project.
Wildlife suffered last year after a wet summer resulted in very poor crops of fruit from trees and shrubs.