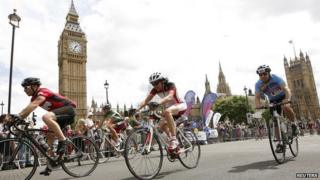 The government's hoping to encourage more people to get pedalling by investing 94 million pounds in England's cycle routes.
The money will be used to improve existing cycle paths and fund new ones.
Manchester, Leeds, Birmingham, Newcastle, Bristol, Cambridge, Oxford and Norwich will share £77 million, with four national parks getting a further £17 million.
"Cycling revolution"
Prime Minister David Cameron said he wanted to start "a cycling revolution".
"Following our success in the Olympics, the Paralympics and the Tour de France, British cycling is riding high - now we want to see cycling soar," he said.