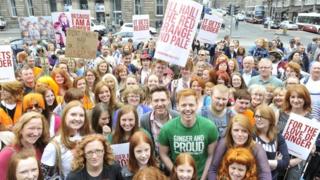 Ginger, redhead, flame-haired, strawberry blonde - whatever the shade, they were marching proud!
More than a hundred people took part in the UK's first Ginger Pride parade.
The group marched through the streets of the Scottish capital Edinburgh, holding banners with messages such as 'Ginger and Proud', and 'For the love of ginger.'
It was organised by a comedian called Shawn Hitchins, because he said redheads often get treated differently and he wanted to demonstrate against that.
He said: "I believe we truly sent a message to the world of how proud we are to be ginger. It was a special moment for gingers everywhere. All hail the red, orange and pale."