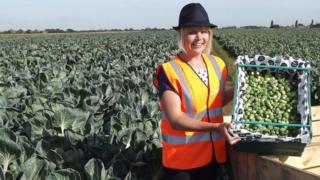 Love them or hate them - but sprouts are back!
Last year there was panic in the supermarkets as there was a major brussels sprout shortage right before Christmas.
This year though, farmers are celebrating their earliest crop ever.
Food experts feared there would be a repeat of the 'sprout drought', but instead perfect growing conditions have led to a crop that's sprouted a whole month early.
Some growers are predicting a massive boost in the amount of sprouts they'll get too - up to 30% more.
Jane Bentley, pictured above, is a sprout technical advisor, and she says sprouts lovers can relax as this year there'll be plenty to go around.