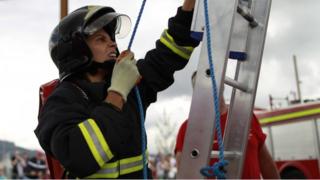 Police and fire officers battle it out
They have pretty tough jobs anyway, but just to prove how fit and determined they are, thousands of fire and police officers have been battling it out at their official annual tournament.
This year the World Police and Fire Games are being held in Belfast in Northern Ireland.
Seven thousand men and women take part - all of them serving or retired police and fire officers.
The games are made up of a series of different challenges with names like 'Toughest Competitor Alive'!
The event, which lasts ten days, end on Saturday 10th August.