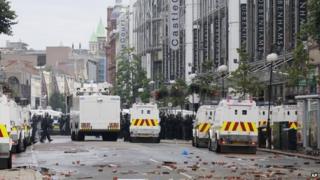 Police say dozens of officers were injured when trouble broke out during a loyalist protest against a Republican parade through Belfast city centre.
Loyalists want Northern Ireland to remain part of the UK, while Republicans want the country to belong to the Republic of Ireland.
It's the latest in a series of violent clashes on the streets of Belfast.
At first reports said 26 officers had been injured, that figure has now risen to 56.
Northern Ireland's Chief Constable Matt Baggott said: "I want to commend my colleagues for their immense courage last night.
"I have no doubt whatsoever that they prevented that anarchy from spreading and without that courage, many lives may well have been lost,"