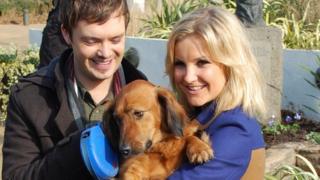 Helen Skelton has announced that she will leave Blue Peter after five years presenting the world's longest-running children's TV programme.
Helen joined the show in summer 2008 and will leave at the end of September.
In her time at BP she's become famous for her feats of daring and adventure.
The 33rd presenter of the show has kayaked down the Amazon, walked a tightrope between Battersea Power Station's towers and run an ultra-marathon through the Namibian desert.
She announced her departure on the show on Thursday afternoon, saying: "I will always count my time on Blue Peter as one of the most special times of my life."
She added: "Blue Peter is a 24 hours a day, 365 days a year job, and with so many exciting new projects in the pipeline, I can't be there as much as I would like, so I've made the difficult decision to hang up my badge."
Read a message from Helen on Blue Peter's Backstage Diary
New faces
Radzi Chinyanganya - already a familiar face to CBBC viewers of Wild - will join the Blue Peter team from mid-October as a brand new third presenter, alongside Barney Harwood and newcomer Lindsey Russell.
Last month Lindsey was announced as the latest Blue Peter presenter, winning an audience vote in a first for the show.
Cheryl Taylor, Controller of CBBC, said: "We feel very lucky though to have not just one - but TWO new faces to keep Barney company in the Blue Peter studio.
"Lindsey - who we know our viewers already love as they voted her on to the team just a fortnight ago and Radzi who has become a firm favourite on Natural History show "Wild" over the summer.
"We wish both of them - and of course Helen - the very best of luck in their new roles."
Record breaker
In her time on Blue Peter Skelton broke several records raising money for charity.
In 2009 she completed the gruelling 78-mile Namibia Ultra Marathon - the second woman in the world to ever to finish the mammoth run.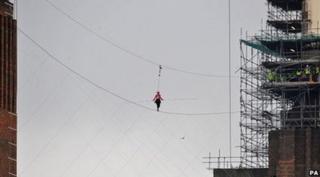 In 2010 she became the first woman to kayak 2,010 miles down the Amazon River on her own, raising money for Sport Relief.
A year later, for Comic Relief, she became the first person to walk between the chimneys of London's Battersea Power Station on a tightrope, suspended 66 metres above the ground.
Ewan Vinnicombe, Editor of Blue Peter, said: "Helen has been a fabulous Blue Peter presenter and will be missed by both our audience and the whole team here.
"I'd like to thank her for all of her hard work and commitment to the show and know that she'll remain a friend of the programme in the years to come."