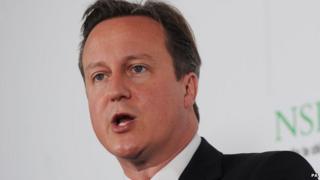 Prime Minister David Cameron has called for people to stop using websites where bullying takes place.
He said social networking sites should have tighter controls to help stop online bullying.
Mr Cameron said: "It's not the case that there's nothing we can do just because it's online.
"First of all, the people that run these websites have got to step up to the plate, clean up their act and show some responsibility."
He added: "Just because something is done online doesn't mean that it's legal.
"If you incite hatred, if you incite violence, that's a crime whether you do it in a television studio, on a soapbox or online and so these people can be chased.
"If websites don't clean up their act and don't sort themselves out then we as members of the general public have got to stop using these particular sites and boycott [stop using] them."
Cyber bullying has been in the news a lot recently because of the damaging effect it has had on some victims.
Famous people like singers Cheryl Cole and Cher Lloyd have spoken out about how they have been bullied online.
Newsround's got a guide to online bullying if you want to find out more or talk to somebody about it.