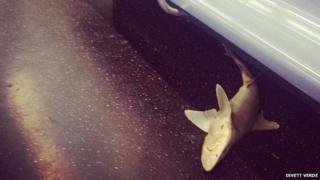 Staff and people travelling on the subway in New York have been left baffled, after a shark was found on a train.
Nobody knows how it ended up there.
The dead creature was found under a row of seats, on a train that was heading towards Queens.
Isvett Verde, of Brooklyn, New York, who took a photo of the shark, said she noticed that the empty carriage of the train "smelled extremely fishy" when she boarded at 8th Street.
"It's hard to be surprised as there are always crazy things happening in this city, but even that was a bit much," she told the BBC.