Fazer from N-Dubz is well known for performing rap and hip hop, but now says he wants to encourage young people to discover classical music.
He says he gets inspiration from classical music, and wants to pass it on to another generation.
To try and do this, he's got together seven young musicians who have never been exposed to classical music for a BBC Three documentary.
The programme will show him trying to bring the worlds of classical and urban music together.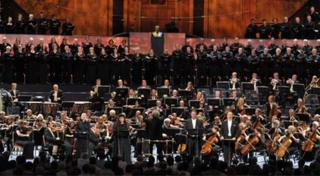 Fazer says he hopes it will work: "Hopefully they'll get the same inspiration and feeling that I got when I first worked with an 85-piece orchestra. It's like 3D music, music in high definition."
The rapper has had eight top 40 hits in the UK Singles Chart, the most successful being "I Need You", which charted at number five.
N-Dubz announced they would be taking a break in 2011 to concentrate on solo careers, although a future reunion has been confirmed by all three members during interviews.
The programme will be on BBC Three on Saturday 10th August.