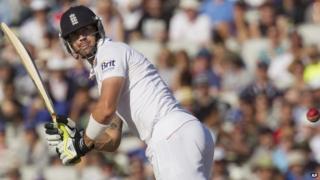 England cricket star Kevin Pietersen has angrily denied reports in Australia which claimed he may have used special tape on his bat to avoid being given out.
An Australian TV station suggested that a number of players in the Ashes series might be under investigation for using the silicone tape to avoid marks showing on Hot Spot.
Hot Spot is used by the umpires to try to detect when a batsman has hit the ball if a catch is claimed by the fielding side.
Technology under fire
"To suggest I cheat by covering my bat with silicone [in order to fool the Hot Spot system] infuriates me. Such horrible lies," tweeted Pietersen.
It comes as Test cricket's Decision Review System (DRS), where an umpire off the field uses technology to resolve disputed decisions, is being criticised by ex-players and pundits.
Some are saying that the technology isn't doing its job properly, while others say it's the way the umpires are using the tech that's wrong.
England are 2-0 up in the five-match Ashes series, with two matches still to play. The fourth Test gets under way in Durham on Friday morning.