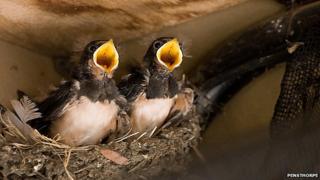 A pair of swallows have raised four chicks in a nest built in the roof of a Land Rover at a Norfolk nature reserve.
The mud and twig nest was created in the roof of the Pensthorpe Nature Reserve vehicle, used to carry visitors around the 800-acre site.
Warden Darren Williams, 45, said he felt like a "surrogate father" and was convinced the "hot air" from his tour commentary helped incubate the eggs.
Two chicks fledged on Sunday and now follow the vehicle around the reserve.
The other two chicks remain in the nest at the reserve in the Wensum valley, which hosted the BBC's Springwatch programme for three years.