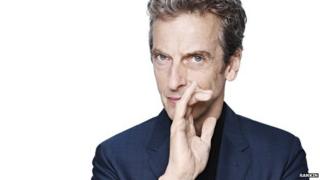 RANKIN
Peter Capaldi has been revealed as the actor who will replace Matt Smith in Doctor Who.
The 55-year-old actor from Glasgow is the oldest Doctor since the first, William Hartnell, began it all in 1963.
Peter has appeared in Doctor Who before. In 2008 he played a Roman merchant called Caecilius in The Fires of Pompeii.
Doctor Who writer Steven Moffatt said Peter was given the part after a secret audition at his house!
Quiz: How well do you know the new Doctor?
Peter said: "It's so wonderful not to keep this secret any longer. Being asked to play the Doctor is an amazing privilege."
Lots of you have written to Newsround to share your thoughts.
Rosey in Wiltshire said: "Rupert Grint should be the Doctor next. Nobody will ever be as good as Matt Smith."
But Stacey in Wales is more optimistic: "The Doctor needs to be someone darkening and evil - Peter is a perfect choice!"
You can tell Newsround what YOU think of the new Doctor.