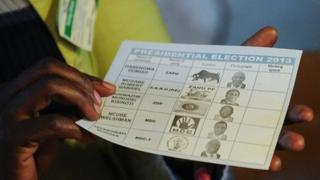 The US and UK have said they are concerned about the result of Zimbabwe's election which took place last week.
Mr Mugabe who has been in power for 33 years says he has won the election.
But some people say the election was not carried out fairly and there are claims that Mr Mugabe might have fixed the result - though he denies this.
Mr Mugabe, 89, won 61% of the vote, against main rival Prime Minister Morgan Tsvangirai's 34%.
Tsvangirai has rejected the results of the vote for parliament and president and says he want to take legal action to fight against them.
South Africa has congratulated Mr Mugabe on his victory.
Troubled History
President Mugabe is a controversial figure with many in Zimbabwe seeing him as a hero; but many others both at home and abroad accuse him of being a dictator who has held power for so many years by force.
In past elections his opponents have accused him of using his power to fix the outcome.
In the last election in 2008, his opponent Morgan Tsvangirai accused Mr Mugabe's supporters of attacking his own supporters and pulled out of the race.
Since that election in 2008 President Mugabe and Mr Tsvangirai have shared power in a coalition - but it's not been a friendly relationship.