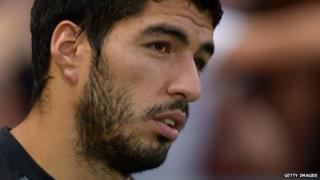 Luis Suarez is considering legal action in an attempt to force a move away from Liverpool.
The 26-year-old believes Arsenal's bid of just over £40m for him means his contract is changed and he should be allowed to leave.
Liverpool have rejected the offer and says the the change to the contract does not force them to sell.
Gunners manager Arsene Wenger wants to sign Suarez but does not want to fall out with Liverpool.
He said: "We want to [sign Suarez] if it is feasible in an amicable way"
"We will respect what Liverpool want to do. I don't want to speak about Suarez, because that is between Liverpool and Arsenal."