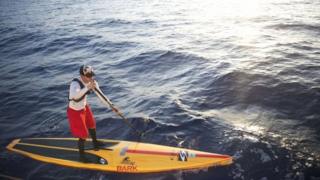 American man Ben Friberg's has travelled from Cuba to the USA on a paddleboard.
It took him 28 hours to complete the 111 mile journey, standing up all the way except when he stopped for snacks.
He said the journey was pretty tough.
"Especially at night the seas never died down. And there was a ton of chop and my stomach wouldn't settle."
But he also enjoyed the natural elements that he passed along the way.
He said: "You can stop and enjoy the beauty of it too, the colour of the water, things that mother nature placed in the water that you pass along the way."