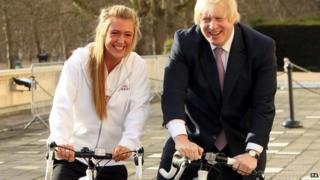 Thousands of people will be getting on their bikes as part of the Ride London event this weekend.
One of the main highlights is a hundred mile race through London and Surrey.
Around 70,000 people are expected to turn up and London Mayor Boris Johnson and double Olympic cycling champion Laura Trott are taking part.
Laura Trott will be competing and says she wants people of all ages to get into cycling.
We asked if you are inspired to get out on the road.
Your comments
I love cycling. Me and my mum try and go to Parsley Hay every Sunday where I hire a tricycle. I love it there because the people are friendly, the views are stunning and you can get a bacon butty at the end!
Laura, Buxton, England
I go out to my local BMX track and play on there with my bike.
Lewis, Maldon, England
I love riding my bike although I'm rubbish at it! I am really inspired to start cycling and the Olympics can take the credit for it!
Lily, Queenborough, England
I love riding my bike! Also I'm very excited because the Tour de France is coming past my house. I've had my bike for four years and soon I will need a new one because I'm growing up.
Olivia, North Yorkshire, England
I'm going to try and do 3 or 4 laps around the whole village and 15 laps around the entire churchyard!
Rebecca Essex, England
I love riding my bike, but I can't always use it because it lives at my Gran's house. When I'm there I use it frequently. I've never been on a bike ride but I hope to soon!
Heather, Wantage, England
I love riding my bike it is such a fun way to get around and I will be watching the cycle ride in London!!
Lucie, Brighton, England
Me and my friends go for cycles all the time cycling is so fun.
Thomas, County Down, N Ireland
I go on a bike ride every other Saturday and today I'm going.
Bradley, Didcot, England
I love riding my bike is so fun when you ride in the summer
Jennifer-rose, London, England
I have done a 12 mile cycle around the Derwent Reservoir.
Josie, Sheffield, England
Today me and my friends Alfie, Liam and Marcus are doing a sponsored 25 mile bike ride for the chemotherapy unit at Barnstaple Hospital. We have raised over £400.
Lewis, North Molton, England
We are going on a family bike ride today. I would love to be an Olympic bicycle rider one day. I loved watching it at the Olympics. It's fun riding your bike and healthy too !!
Ella, West Sussex, England
I was going to Ride London but I am going on holiday to Yorkshire and I will go cycling there.
Oliver, Croyden, England
I was inspired by Chris Hoy to do the Ride London event.
Deborah, Welwyn Garden City , England
I already have a bike and love going on it. I normally cycle with my parents round the park near us. Sometimes we cycle on the road as well.
Osha, West Midlands, England
I've done 15 mile bike rides since the Tour de France and I think that any big cycling event inspires kids to cycle.
Marc, Toulouse, France
My mum is doing the 100 mile bike ride on Sunday. I am very proud of her because she is doing 100 miles and knows how big the hills are.
Adam, Newport Pagnell, UK